Featured
Structured Water Stories: Liala Epstein's Crystal Clear Pool Water Using a Structured Water Unit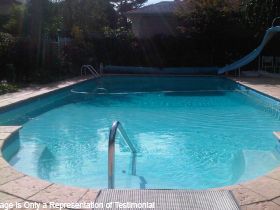 This testimonial is about Liala Epstein's crystal clear pool water using a Structured Water Unit:
My swimming pool was opened for the season on April 12, 2010 and the commercial water structuring unit was integrated into the swimming pool plumbing lines that day. Readings on opening day showed no evidence of chemical agents in the water or evidence of silver or copper ions that were used to maintain the pool during the previous pool season. The pool was operational within 48 hours of opening.
Readings on April 20, 2010 showed pH and Total Alkalinity in the ideal ranges. The pool remained opened until October 16, 2010. Weekly readings consistently showed pH and total alkalinity readings in the ideal ranges.

Over a 3 week period of extreme heat in July, a total of 4 gallons of household bleach (5% sodium hypochlorite) was added to the water to remove algae that was growing on the plaster walls. Other than the household bleach, no agents were used as antibacterial agents or to deter the growth of algae. There were many parties around and in the pool and the pool was visited regularly by wildlife. The rainfall was unseasonably high.
According to the daily record of total precipitation recorded in the Canadian government's National Climate Data and Information Archive, a total of 541mm of rain fell in the City of Toronto between April 20, 2010 (pool open date) and October 16, 2010 (pool close date).
The pool walls and floor are plastered with a bright white marblelite finish. As the image indicates, the water was a beautiful blue throughout the entire season. In addition, the water was always velvety soft and clear and its energies could be felt from several feet away. My children used the pool infrequently in prior years. During the 2010 pool season, they were often hanging out in the pool as well as around the pool. The water structuring unit on the pool was a wonderful, and magical experience.
Liala Epstein
Canada
Trackback URL for this blog entry.
Testimonials Form
Please share your experience with our products below.