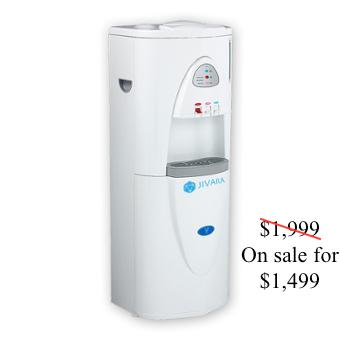 Jivara Everstream Water Cooler
Rating: Not Rated Yet
Jivara Everstream Water Coolers are a quantum leap from standard, run-of-the-mill water coolers.
Description
Jivara Everstream Water Coolers are a quantum leap from standard, run-of-the-mill water coolers.
Advantages include:
Dual-Action Purification featuring Natural Action Technologies
Dynamically Enhanced Water Structuring combined with Jivara Traditional Filtration
Energized Water to support optimal health and vitality
Effective filters that are changed based on usage rather than time
Coolers are purchased outright rather than rented through costly lease programs
3 temperatures of water to encourage increased consumption

Jivara's state of the art technology and quality of materials allows you to have complete peace of mind about the water that you're drinking. Convenience and affordability can be right at your fingertips in your home or office. In addition to the stylish design, Jivara Everstream Water Coolers offer you an unparalleled opportunity to have, Dual-Action Purification, money-saving self-maintenance and three different temperatures of water.
Say goodbye to heavy bottles and monthly service contracts
Bottling water is an expensive process. You're paying for the water to be purified but you're also paying for the bottling plants, storage, distribution and delivery trucks to drive the bottled water to your location. After that you're paying for the empty bottles to be shipped back to the bottle washing plant. Above and beyond all of the environmental issues, no one wants to be hoisting five gallon water bottles around. The Jivara Everstream Water Cooler is bottleless and hooks up easily to your water supply.
The Jivara Everstream Water Cooler is superior to other bottleless coolers in that they are designed to last for a decade or more and available for outright purchase. Buy your cooler outright and ditch that unnecessary monthly cooler lease payment.
Superior Filtration
Most water filter companies recommend that you change your filter after a certain period of time. The problem with a time-based filter switching system is that your water usage actually determines when you need a new water filter, not the amount of time that you've had the filter. At Jivara, the paramount concern is that you're confident about your water. Jivara also wants your water purification process to be as economical as it can be. No one wants to waste money discarding a water filter prematurely, or to keep a filter long after its usefulness has expired.
All Jivara Everstream Water Coolers come with a Natural Action Technologies Structuring Device which neutralizes the energy of toxins. Click here to see the lab report.
For physical reduction of contaminants and killing of bacteria, viruses and pathogens three options are offered: the Jivara Assurance Filter, the Jivara Fluoride Oasis Filter and the Jivara UV Filter.
Jivara Assurance Filter
Most chlorine taste and odor filters reduce only a few toxins in water. This filter combines several technologies giving it the power to handle tougher to remove contamination such as the ammonia and chlorine that combine to make chloramines. The combination of a one micron block, granular activated carbon and KDF 55 creates great tasting safe water. You will love your purified water knowing chemicals, heavy metals, and even pharmaceutical residue have been treated with the best technology available.
Jivara Fluoride Oasis Filter
Effective fluoride reduction is dependent on high quality dedicated filtration media. The Fluoride Oasis features new and improved high yield activated aluminum oxide specially formulated for the reduction of fluoride in drinking water. With a laboratory tested 90% reduction level the Fluoride Oasis is the best value in the market for making water safe from fluoride. Even reverse osmosis filters which are thought to be strong toxin removers don't remove as much fluoride as this powerful filter.
Jivara UV Filter
Ultraviolet light kills 99.9% of harmful bacteria in point-of-use filter systems and is FDA approved for disinfecting filtered water. This UV stage may be used as the last stage on POU filter systems for well water in rural areas, or in towns and villages that have uncertain chlorination. The easily replaceable bulb is housed in a stainless steel tube and has a 9000 hour life (over a year). Replacement lamps are available separately. The Jivara UV system will alert you when it's time to change your UV bulb with an audible sound, typically 12-18 months.
When to Change Your Filter(s)
We've developed a system to support you to change your filters based on your household water consumption rather than an arbitrary amount of time. See this chart to determine how long your filter is going to last based on how much water you are using and what is important to you. To ensure optimal performance remember to always have a replacement filter on hand.
Please note the 3 Jivara filters are offered as options. Many customers choose to have the structuring technology without any of the three filters. If you are concerned about toxins generally as well as an upgrade on taste, the Assurance is the best filter choice, for those with fluoride concerns the Assurance and the Oasis are the best choice, and for those with microbiologically unsafe water (non-chlorinated) the UV Filters are offered.
The developers of Jivara genuinely care about your health and hydration and they know that you'll drink more water if it's the temperature that you like.
Most water coolers offer a choice of either hot or cold water. The Jivara Everstream Cooler allows you a third choice, of ambient or room temperature water. Cold water can be good to boost your metabolism and hot water provides a base for that soothing cup of tea that you love. Room temperature water helps the fats in our foods to remain fluid which can ease digestion.
Please Allow 3 Weeks for Delivery
Shipping Weight: 60 lb.
Dimension: 16"W x 13"D x 41"H
Cold tank volume .5 gal
Hot tank volume .55 gal
Room tank volume 2.2 gal
Cooling Rate: 1.5 gal/hr 37-50 ºF
Heating Rate: 1.5 gal/hr 180 ºF
Voltage: 115 VAC Power Required: 600w max


FREE WORLDWIDE SHIPPING!*

These statements have not been evaluated by the Food and Drug Administration. This product is not intended to diagnose, treat, cure or prevent any disease.
​